BUCKS  PARTIES – PRIVATE FISHING CHARTERS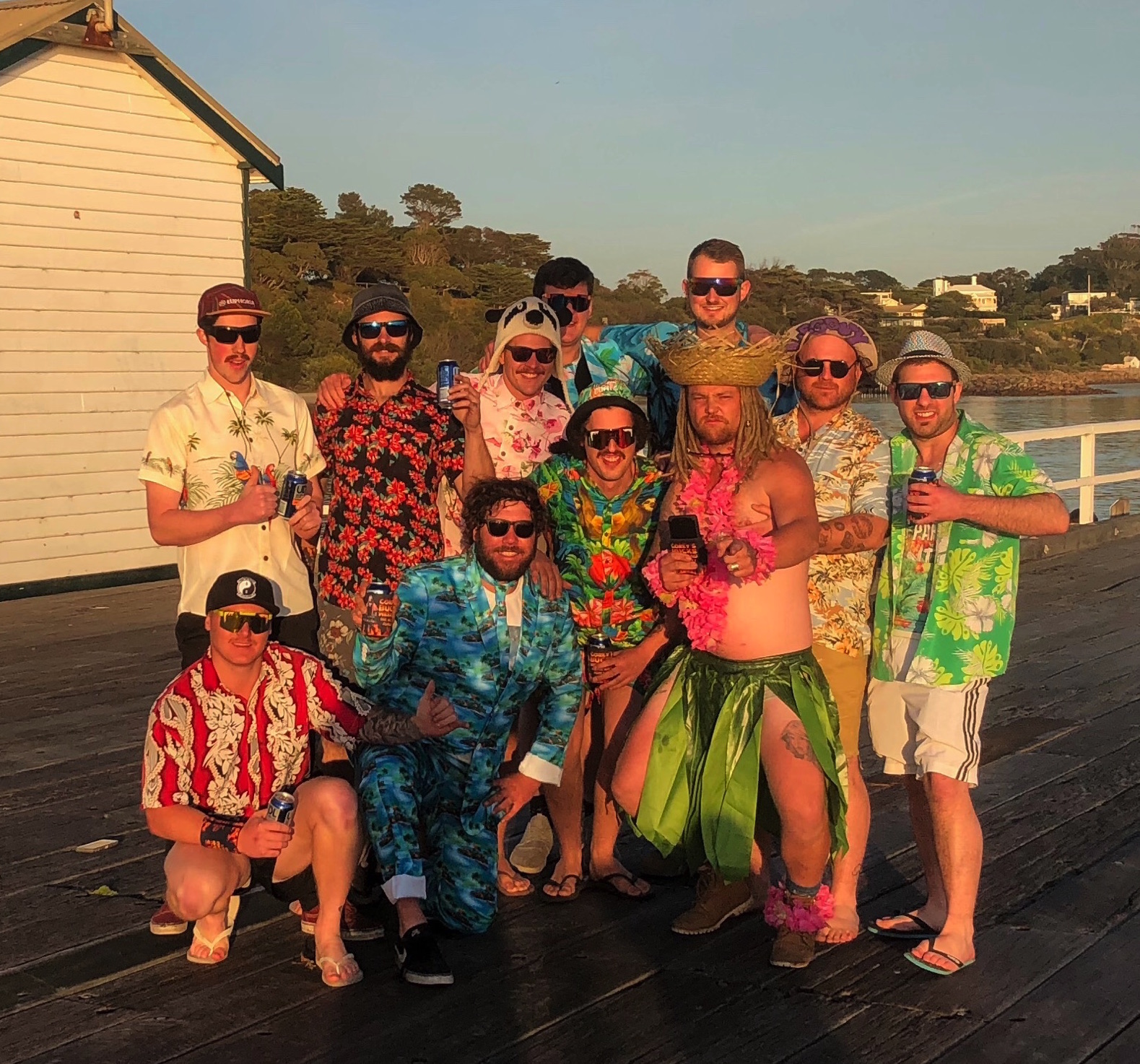 All Year Round
Planning a Bucks event for a groom and his mates?  Try something a little more adventurous for the next Bucks party with a Fishing Charter for your Buck and his buddies.  Get Hooked and head out into Port Phillip Heads for an adventure on board a 42ft Randall Fly-Bridge Sportsfisher or a 36ft Sportsfisher!  Let us take your group for a fun day out on the water and prepare yourself for the challenge as you try to catch Big Snapper, Salmon, Bass Strait Flathead and more!
We offer 4Hr and 5Hr private charters chilling out and chasing a good catch of fish and loads of laughs.
Bucks Fishing Charters
4Hrs – $1320 – 12 Passengers – extra passengers $110 per head to max 16
5Hrs – $1560 – 12 Passengers – extra passengers $130 per head to max 16
We can cater for large groups up to 30 passengers by utilising both boats, Big Blue and Rip Runner together.  In this case there is often a bit of friendly competition between the boats to see which boat can land the most fish or the largest variety of species.
ALCOHOL CONSUMPTION POLICY
Some key notes regarding alcohol, alcoholic consumption and behavior:
• Rip Charters and its vessels subscribe to responsible drinking and if a passenger attempts to board the boat and the skipper deems them already intoxicated, they will be refused entry to the vessel.
• Being on a boat is not a license to get outrageously drunk. As with licensed venues (like pubs and hotels), intoxicated passengers will not be tolerated and may cause a charter to be terminated without refund.
• Beer is permitted in cans, 2/3 cans per person over 5hrs is acceptable.
• No bottles of clear spirits will be allowed onboard (ie tequila, vodka, gin, whisky etc) and definitely no shooters.
• Drinking water is required on all boat charters (at least one bottle per person).
• Ice boxes are provided on all vessels, so you don't need to bring any eskys with you. However, you will need to bring your own bags of ice to keep your drinks cool.
• Treat our boats like you'd treat your own house. Keep it clean!
• Rubbish bins and bin liners are provided on both our charter boats. Please use them! Boat crew will dispose of empty containers at the end of the cruise, but if you leave a mess on the boat, you will be charged for the clean up afterwards.
Accommodation
We can also help with suggestions for accommodation if you are looking to book and stay before or after the trip.  Located in the heart of Portsea, two modern and fresh, self contained apartments sleeping up to 12 in each. Directly opposite Portsea Hotel, beach and shops its the perfect location to come home to after a hard days fishing.  Or accommodation directly behind Sorrento Pier or not far away in Rye.  Take a look at the suggested accommodation below.
Group of Bucks Pirates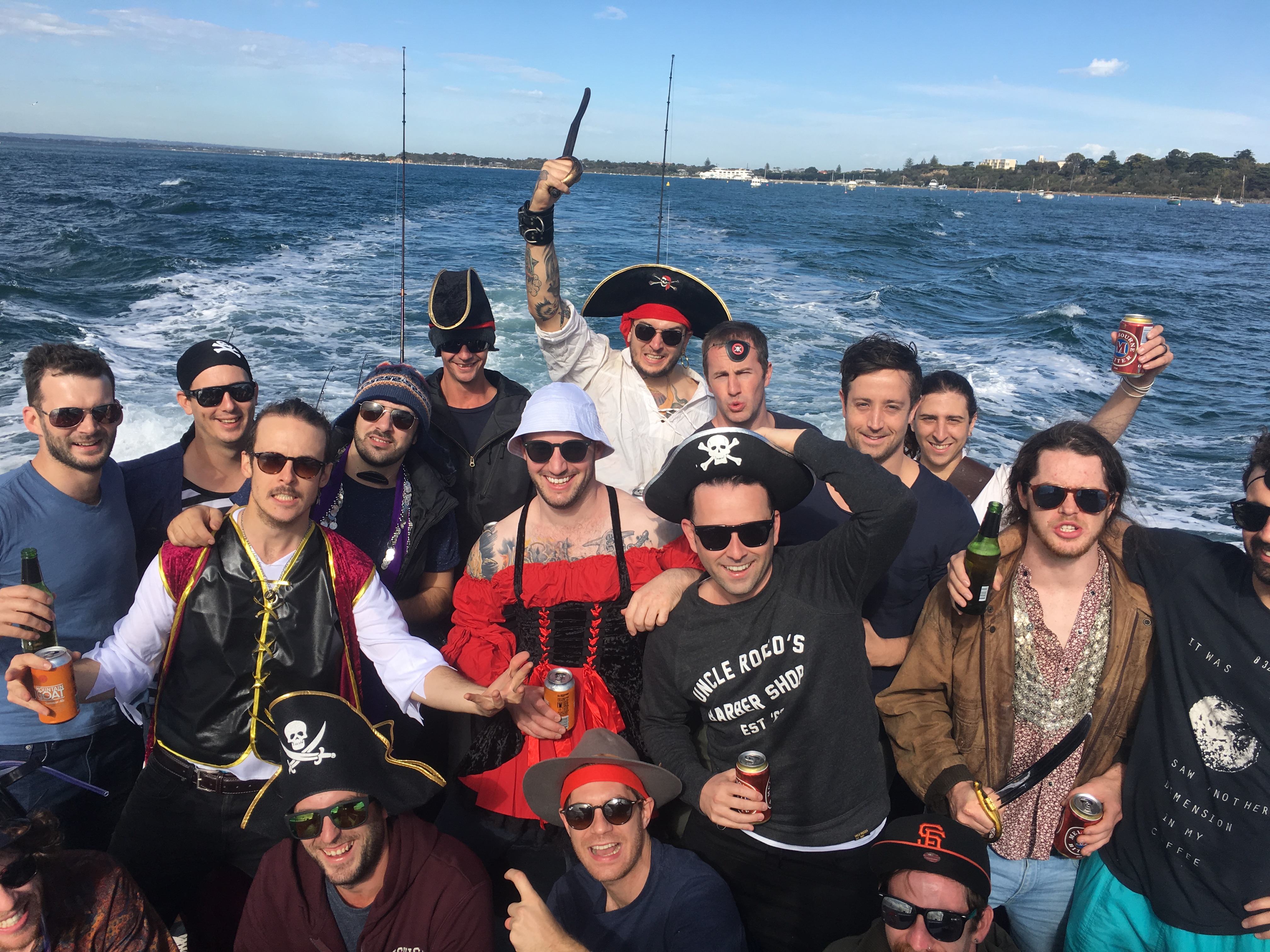 Our trips can depart from either Sorrento or Queenscliff and we are fishing in the beautiful Southern end of Port Phillip Bay and Bass Strait.    All rods, reels, bait and tackle supplied, tea and coffee provided.
Rip Runner with half of the Bucks group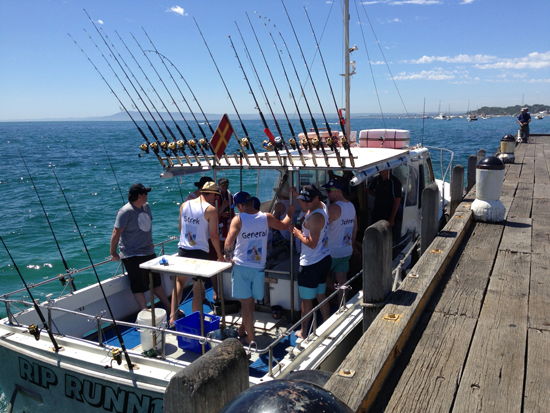 And Big Blue with the other half of the Bucks group

Suggested Accommodation in the area
Bayplay Apartments – 5984 0888
Hotel Sorrento – 5984 8000
Portsea Hotel – 5984 2213
Oceanic Motel Units – 5984 4166
Rye Beach Holiday Apartments – 5985 6559
Groups A'Hoy Tootgarook – 5986 4900
Other activities in the area
Bayplay – Snorkelling, Stand Up Paddle Boarding, Sea Kayaking, Scuba Diving and more…
Golf – The Dunes Golf Links, Moonah LInks, Portsea Golf Club, Sorrento Golf Club, Eagle Ridge Golf Course, Nepean Country Club, St Andrews Beach Golf course to name but a few
Peninsula Hot Springs – Fingal
Wineries – All over the Peninsula
Pubs and other Watering Holes – Portsea Hotel, Hotel Sorrento, Three Palms, Rye Hotel, Coast Restaurant Blairgowrie
Dolphin Swims – Polperro, Moonraker
Horse Riding – Gunnamatta Trail Rides
Laser Tag – Peninsula Laser Tag