Hook up and unwind with Rip Charters…
Locally owned and operated and located in picturesque Sorrento on the Mornington Peninsula, Rip Charters was established in 1986 and this year celebrating 36 years experience fishing Port Phillip Bay and Bass Strait, we are the leaders in Charter Fishing in Victoria.
At Rip Charters we're fishing all year round and our speciality is following the seasons to suit the best catch of the day. Troll for salmon or try casting for some Big Red Snapper, anyone can do it.
Or if it's the big ones you're after, our ocean swells are home to sharks such as Mako, Blue Whaler and Threshers. Whiting, Squid and various other reef fish are common amongst our catch, there is also that special time of year when the King Fish arrive, certainly a prized catch, in general the variety will astound you.
Join our experienced skipper and crew aboard our 42ft Fly-bridge sports fisher licensed to fish Bass Strait and Southern Port Phillip Bay
Our boat Big Blue is specially furbished for your comfort and safety. It is designed and rigged for fishing and fully covered for all weather conditions to ensure your fishing experience is uninterrupted by sun or rain.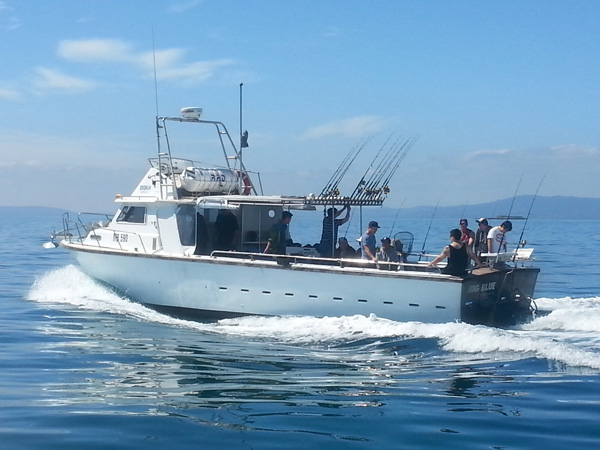 We carry all the necessary fish finding, navigational, communication and safety equipment. All you need to bring along is some food and drink, appropriate clothing, an eski (for your catch), sunblock and your fishing license.
Charters operate from Sorrento Pier, The Esplanade, Sorrento, Victoria or pick up can be made from Queenscliff Marina upon arrangement. Trips can be organised from 4 to 10 hrs (standard charter is 5 hours) with the added bonus of catering packages for those special social events.
Customer Feedback
Thank you so much for a fantastic day on the water. Phil and the boys were full of knowledge. I will definitely be going again sometime.
To the Boy's on the Rip Runner.
I thank you for the best birthday trip, could not have asked for two great guy's who made the day so exciting and fun .
Just letting you know we (Julie, George and Michael Sloan) had a great time on Sunday morning. It was well run and friendly with the skipper and his crewman working hard to make it an enjoyable and informative day for all.
And we caught some fish, which we have already eaten. The flathead and red Mullet being the best for me! At lunch we agreed that we would do this again! Well done.
Thanks guys an excellent day out fishing, really enjoyed it.
I just wanted to say thank you all for the great day we had fishing last Thursday. Your 3 crew members (NIck, Rick & Tony) were so helpful.
I would highly recommend your fishing trips and hopefully will be back in the not too distant future.
Great day out. You made sure my kids had a memorable experience, and we are still enjoying the flathead and trevally we caught.
Went out with Tony and Joe today.
I would just like to let you know that they were terrific.
Very helpful, friendly and knowledgeable.
It is probably what I expected, but, most of the time when you expect it, doesn't arrive very often. It sure did on this occasion
Could you please pass on my thanks to both Tony and Joe, they are a credit to your company. I'm hoping to do a snapper trip at a later date and will definitely go out with those guys.
I would also be delighted to recommend "Rip Charters to all my friends, and will.
Hey guys, just got home from todays fishing trip, and had the salmon for tea, it was absolutely fantastic. Thanks for an awesome day (again). Hope to be able to do another trip soon!
Just wanted to say thanks for a great day on Saturday. My 2 mates and I had a great day with Gav and Thumbtack! The boys couldn't do enough for us and made sure we had a fantastic time. We will certainly be making this an annual event.
Thanks Sharina for a wonderful fishing charter last Sunday.
The fishing was good and the skipper had a lot of patience in his choice of locations.
The fishing options were made easier because the boat had a range of gear on board from light rigs to trolling gear.
Most of my praise went to the helpful crew that kept the hooks baited all day and gave us all great encouragement throughout the day.
Just a note to say thank you and to compliment you on the expertise and rapport of Janette and Nick your Captain and first mate. I would recommend your fishing charter and will be making contact to secure future bookings with Kestrel III. On behalf of my son and myself, I would like you to pass on this endorsement to Janette and Nick.
On behalf of "Mrs parks victoria" (kate) and myself I'd like to pass on our thanks for a great day on Sunday...we really enjoyed the day and the cameraderie...phil and the shrekky dekkies provided a fantastic service...a highlight was the champion effort put on by the young girl who outfished all of us...that girl has become an angler for life...
well done.
Just wanted to say trip was great, thanks. Please pass on a big thanks to skipper and crew who did a fantastic job. I have been on a few charters over the years and not once did any of them put in as much effort in trying to find fish for us. Thanks heaps again and I will be booking again and recommending you to all my mates.
Just wanting to thank you, Toby and the crew for taking us out yesterday. Everyone had a great time.
I just want to thank Tony, Arthur and Joe for making our fishing experience so great! We caught lots of flat head and some squid. While the weather was not the best, everyone had a terrific time. I want to especially thank Joe, who was great with kids - my son and his friends had a wonderful time and were made to feel very welcome!
Once again, thank you for a memorable experience