Ocean/Bay Fishing Charters Port Phillip Bay & Bass Strait
DEPARTING SORRENTO  & QUEENSCLIFF
Individual and Private Fishing Charters – All Year Round
5 Hrs – $130 per head
5 Hrs – Private Charter – $1560 – 12 passengers (additional passengers @ $130 per head to Max 16)
Our 5hr Charter is our most popular trip and is suitable for beginners through to experienced anglers.  In season possible target species include Snapper, Gummy Shark, King George Whiting, Australian Salmon, Trevally, Sweep, Flathead, Barracouta, Calamari and Reef Species.   We do not target Shark on these trips.
6 Hrs – $150 per head
6 Hrs – Private Charter – $1800 – 12 passengers (additional passengers @ $150 per head to Max 16)
The 6 hour trips will, when conditions allow give us more time to travel further down to Barwon Heads where we focus on Snapper and in season Kingfish, but also depending on the weather on the day, may target species mentioned above such as Gummy Shark, King George Whiting, Australian Salmon, Trevally, Sweep, Flathead, Calamari and Reef Species.  If we find a shark hanging around the burley trail there is also a good chance we will get the shark rods out for a spin.
8 Hrs – $190 per head
8 Hrs – Private Charter – $2280 – 12 passengers (additional passengers @ $190 per head to Max 16)
The full day 8hr Charter will often include Bay and Ocean fishing weather permitting.  The 8 hour trips will chase the same species as mentioned in the 5 & 6 hour trips above, but on occasions when the conditions allow and in season are also targetting Kingfish and sharks such as Mako, Threshers, Gummies, 7 Gill and Blue Shark.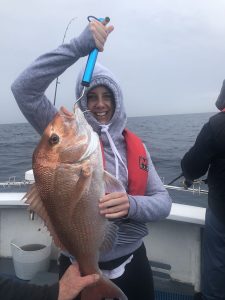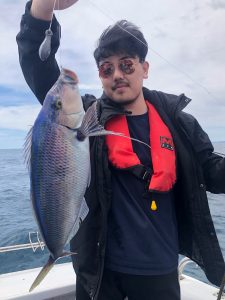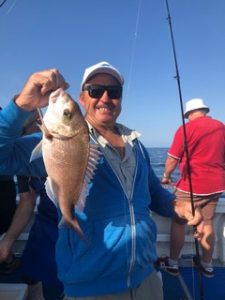 OCEAN/BAY FISHING CHARTERS – Individual and Private Charters
Depending on the season our Game/Sport fishing trips target Kingfish, Snapper, Salmon, Mako, Thresher sharks and are sometimes getting amongst School shark, Gummys and Blue Whaler, Squid and big Flathead.
All top quality rods & reels, including Penn, Ugly Sticks & Wilson Live Fibre rods on board.  Bait and tackle supplied.  Fish will be cleaned and bagged for your convenience, ready to cook on the BBQ.
On all our Game/Sport trips we endeavour to get out into Bass Strait, however, the weather has a big influence on our charters, and obviously we cannot control what the Weather Gods throw at us!  We tend to run charters in rain or wet conditions, however, as a general rule, we do not proceed in wind conditions above 25 knots, in that case we have an alternative trip fishing in Port Phillip Bay when possible.
Individuals, groups or social clubs are all welcome. Our vessel can be hired privately for such occasions as Corporate Groups, Social Clubs, Birthday Partys, Friends Get-togethers.  Catering Packages are also available on Private Charters, please enquire.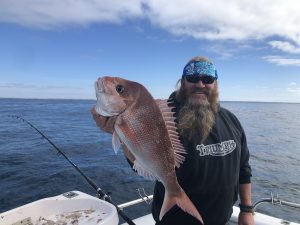 RESERVATION POLICY
Payments:
For Individual and small group bookings payment is required in full using a credit card over the phone.
For Private Charters a 30% deposit is required to make a reservation when booking using credit card, bank transfer or cheque.
Final payment on the day either credit card or cash.
Bookings are fully transferable and can be rescheduled with reasonable notice.
Refunds are not available.
Booking Terms and Conditions:
You MUST provide a mobile contact number whereby you are reachable either the night before of the morning of your trip.

Trips proceed with a Minimum of 6 passengers.
Rip Charters reserves the right to cancel a trip if minimum numbers are not met.
Check in Times:
To keep faith with other guests DEPARTURE TIMES FOR ALL TRIPS ARE EXACT. If you are late, you will have to make another appointment. Please allow plenty of time for Summer traffic and delays in finding a car park.
Cancelled Trips:
Transfers to another charter date will be issued when a trip is cancelled due to:
a. Rip Charters skipper regards the weather conditions as unsafe.
b. Unforseen circumstances outside of Rip Charters control.